I've been following the horrible Batman Movie Killings and have a lot of thoughts on it. I won't get into all of them except to say that I'm praying for the families of the victims and for the survivors and their families. It was senseless and terrible :(
It did get me thinking about lasting legacies, though. One of the first victims identified was Jessica Ghawi, 24. Her twitter handle was her professional name, Jessica Redfield. Her last text was sent to her friend has been all over the news and internet. It said, MOVIE DOESN'T START FOR 20 MINUTES.
In this ever changing technological world, our tweets/fb statuses are our 'last written words' like David in the OT had his last written words, so, sadly do we... only our last written words aren't in the form of grand speeches-- they are made up of 140 characters or less or a facebook message over what we ate for supper.
I don't go around daily expecting to die. I'm pretty sure none of the twelve in that theater did either. Ms. Redfield had no idea that would be her last tweet, her 'last words'.
Thinking over my tweets/facebook messages, I'd be embarrassed if some of them were my last words:
I've had such gems as:
So weird! Everlee's potty has been singing for 30 minutes straight. I finally got tired of it and went to put it in a closet. I noticed I didn't put Ever's side up on her bed, so I did that. Potty still sang. I went in to pick it up... it stopped singing! I walked away... it started singing. I went back, it stopped... and has stopped for good. Kinda freakin me out. lol

The 2 yr old is rockin' out to Milli Vanilli-- We are full of taste at this house ;)

Left over cake and spinach dip for supper. :)

***I am not lying! Those are some of my facebook messages!

If something had of happened to me and the news got a hold of my messages, well... they might think I was a little nutty lol (and maybe they'd be right).
My twitter is a *little* better: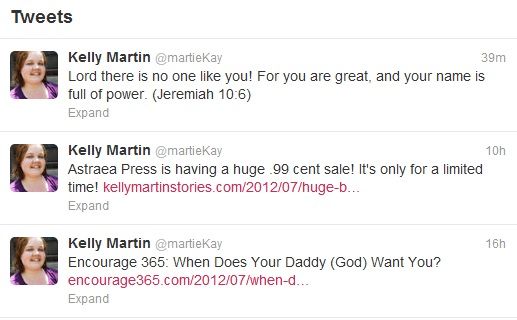 There is a point to all of this...
None of us know when our time is up and we go to meet our Maker-- NONE of us. One second we can be facebooking about something silly our kid did, the next we could be staring at Saint Peter.
We could be tweeting about some exciting movie or tv show, and the next we're staring at the Pearly Gates.
Would you be proud of your posts or tweets if the news got them after you died? Would you like your last tweet thrown up on MSN or Yahoo (or some random girl's blog) for the world to see?
Let's make our Tweets COUNT. Let's make our Facebook posts COUNT! I'm not saying that we should be serious all the time and only post bible verses-- and I'm definitely not saying that Ms. Redfield did anything wrong with her tweet... I thought it was cute and told of her excitement at the moment :( (I feel so bad for her and all the victims).
What I am saying is to watch what we Tweet/facebook.
*Try to show God in them even if you aren't talking about Him.
*Don't yell or fuss or cuss or belittle someone. (Do you want your last post where you called your husband a bad word displayed on the web if something happened to you?)
*Show respect to everyone.
*Think, "If this is it for me, would I be ashamed of this post/tweet?"
Folks, we have no idea when our "last words" will occur, but know that even if they aren't your last-- people are reading them, and they are forming an opinion of you (right or wrong). Never post anything you are ashamed of. Never hurt others through your comments. It's not worth it.
Much Love,
Kelly