Yesterday after the girls went to bed, I decided to tackle... 'The clutter room'! Dun Dun DUN!!!
Remember the room I blogged about on Saturday?
Maybe this will help...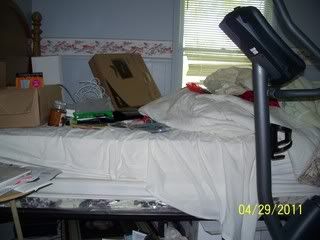 UG!!!!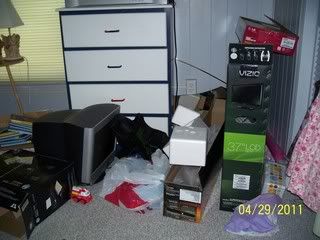 ACK!!!!
This is the room that I've been putting off and putting off because it was so overwhelming to even attempt. Well I finally got up the gumption to do it... or at least try some steps to get it 'better'... (not good yet lol).
Here is the progess so far...
The first thing that happened was that my husband finally got rid of all the old boxes/broken mirror allowing me the ability to actually do something in here (and for my kids to actually come in here again!!! :)).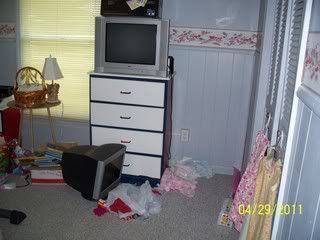 That was Saturday. All day Sunday, I just kept thinking... wondering... what was I going to do (I wasn't home that day much so there wasn't much I could do).
After work Monday and the girls were in bed, I decided to at least TRY something in there...
The 'goal' was to at least clean the bed off to make it look more like... you know... a bed. The rest could wait, but I wanted that done...
I threw all of this trash away...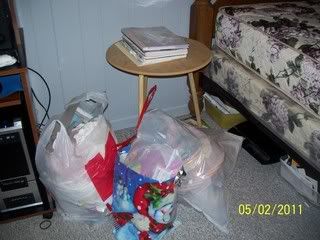 Made THIS big of a mess...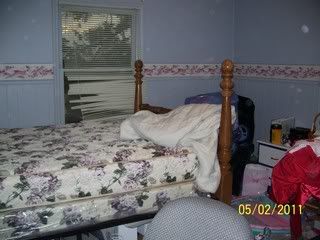 BUT I'm happy to say that...
.
.
.
.
.
.
.
.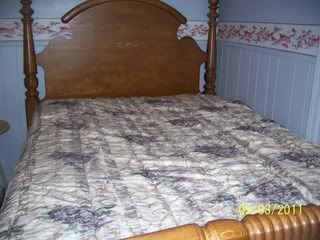 IT's a BED!!! An actual bed... that can be slept on! Oh my :) Who knew it was under there????
As for the rest of the room...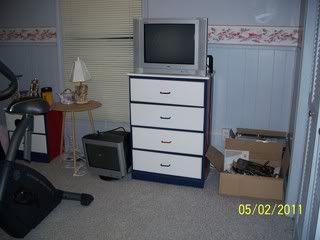 It's starting to look a bit nicer :)
I'm in no way finished with this room right this second (obviously lol).
I need:
1. New blinds
2. Take the wallpaper border down (10 years ago this room was home to a pre-teen boy and hasn't been touched paint wise since... I know... I'm slow)
3. Paint the room
4. Clean out from under the bed and organize/throw away whatever is under there
5. Re-organize it to where it's more functional...
BUT, I think it's a good start. I'm happy that it's even liveable again! The hubs has told me twice how much he really thought I did a good job with it. It took about 1 1/2 hours total to get it to this stage. I can't wait to show progress AND completed pictures :)
I hope you are inspired to do something that you don't feel like doing today or that you think is too big of a project to even attempt. If I can do it, anyone can (and I truly mean that! :) )
Much Love,
Kelly :)