Ok, I'm going to post my binder with one rule: Please don't laugh at it. It's not professional... it's not even pretty. But it seems to be working (I'm not wanting to throw it in the trash as much as I was lol).
I tried to get a picture of the front cover, but photobucket hates me right now... so instead imagine the most awesome, awe-inspiring, greatest thing ever... now think of the opposite. THAT is my cover...
**On to the front page: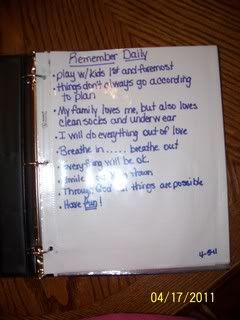 If you want to know what it says, click here: http://ohthatmomagain.blogspot.com/2011/04/home-making-binder-day-1.html
I love that it's my first sheet because it keeps me remembering what is IMPORTANT. A clean house and paid bills are a bonus, but happy kids and a great outlook are key.
**Ok, next we have the daily sheets (and again, sorry for the quality of the pictures):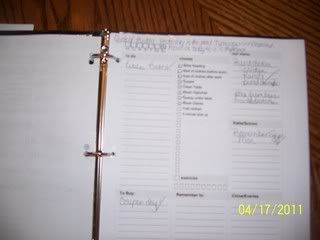 I know that is hard to see, but that's my daily sheets that I have customized from http://www.moneysavingmom.com/. LOVE THEM!
**My Daily To Do List is next...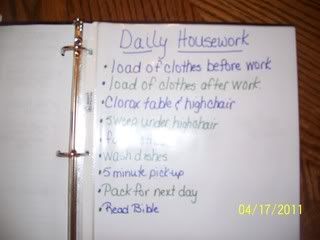 Bad picture but here is what it says:
*Load of clothes before work
*Load of clothes after work
*Clean table and high chair
*Sweep
*Fold Clothes
*Wash Dishes
*Five Minute pick up
*Read Bible
And I have added a few things to my chore chart since I've started, so this page needs re-vamping.
*Saturday To-Do List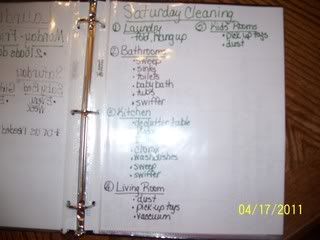 This is my big Saturday to do list and I usually add things to it as needed. Saturday is my big cleaning day. I try to add one big project to it (like clean a closet or drawer... but it depends on how well my kids cooperate).
*Meals, Menus, and Recipes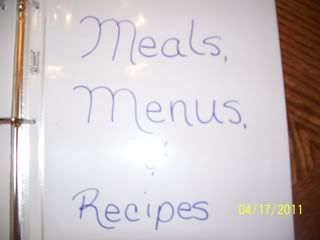 Pretty self explainatory, ain't it? lol
*Calendars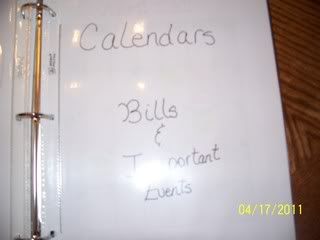 This is my favorite section. I didn't take a picture of it, but I color code my calendars. The girls' events are in pink. Unpaid bills are in yellow (when I pay them I roll over them in blue to make green... I know! Awesome! ;) ). This has been one of the most helpful tools in this entire notebook. I love it. Behind it, each bill has it's own sheet protector so they are all there and I know when they are due... it also cuts WAY back on the cluttered counter space that used to be devoted to bill paying.
*School Stuff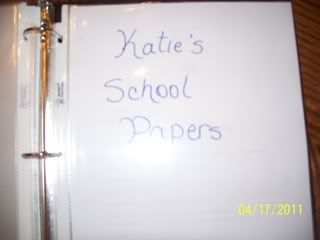 This is the section where I put my oldest daughters school notes/menus/ etc in so I can remember it. It's a work in progress.
On the back of my binder, I have our weekly menu so its easily accessible and ready to go. That picture wouldn't load (sigh).
**Things I WANT to do to "T.N":
1. Make it pretty... of course! This is honestly kind of embarrassing to post these pictures, but I don't care. I want to show you a before and hopefully (some day) an after.
2. I want a tab for birthdays. I'm horrible at remembering birthdays... heck, I'm horrible at remembering ANYTHING!
3. I want to organize it a bit better. Its working now, but I want to organize my organizer lol (how sad is that lol)
Anyway, I hope you enjoyed the trip through my notebook. Hope it wasn't too boring and that you got some ideas from it... and HOPEFULLY, in a few weeks I can post my new and improved version. Notebook 2.0
Much Love,
Kelly