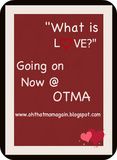 What is Love? 1 Corinthians 13:1-13
A Bible Study /Series
Introduction: Week 1
Romans 13:10 Love does no wrong to others so love fulfills the requirements of God's law.
Welcome to the "What is Love?" Bible Study! I'm so excited that you chose (yes you CHOSE) to join in this venture with me.
I'm going to be honest with you, I had most of this written. Well, all of it is written, but some of it is typed. A few weeks ago, God said, "Rewrite it." (Yeah, THAT was awesome ;) ) Ok, I had worked on this for months... and God wanted it re-written.
Oh. MY!
I wanted to know why, of course, and I believe it is because I was trying to make it too 'formal'. I had written it like I 'thought' a 'bible study' should be written... not like how *I* write, and not how God wanted it (Sorry... )
SO, bear with me. We are going to go with the bones of the old-- but add new on top of it. We are going to learn together-- informally. If you have a question, post it (either here on on my facebook page). If you have a comment, write it. If you want to discuss something, let us have it :) I know this is 'online' and we can't see each other, but we can learn so much by interaction. Lets really take time to discuss this. To learn about it, and at the end of the 12 weeks, we *SHOULD* be able to answer the question, "What is Love?"
So, you may be asking yourself, "What have I clicked on?"
Well... for the next 12 weeks, I'm going to post about 1 Corinthians 13. We are going to take the entire book and dissect it verse by verse (combining a few of them) and REALLY see what love is, how we are supposed to love, and what else God has in store for us while studying it.
If you have no idea what you've gotten yourself into, you're not alone. When I started this, it was only intended (by me) to be at most a 3 part series on marriage. However, the more I learned… the more I studied….the more God put on my heart…the more I realized how MUCH there is to learn from this ONE chapter in the Bible. And its not all for married people! I realize that these verses are quoted at many weddings, but the kind of love it talks about spans the gamut of relationships.
Husband/Wife
Parent/Child
You/Neighbors
You/Enemies
Oh yes! Even our enemies! (Ouch)
We are to love them all, and this Bible Study in intended to give us the tools to do that.
When I thought of love, to be very honest with you, the first thing that popped into my mind is the movie Moulin Rouge. Now, I know it might not be the best thing to start the first day of my first Bible Study with the movie Moulin Rouge. But, hey, it serves the purpose.
Moulin Rouge is classified as a "Love Stor y", however it really starts out as a 'Lust Story'. The rich guy lusts for the high priced –prostitute—and so does the penniless sitar player. He does eventually fall in love with her—but 'lust' ends up causing her death (sorry for the spoiler if you haven't seen it yet….)
The point of this is not to recommend Moulin Rouge, but instead to start off this series by understanding the differences between love and lust.
Remember, we are trying to answer the question, "What is love?" not "What is Lust?"
· Lust is of the flesh.
· Love is of the heart .
· Lust can get us in trouble.
· Love can get us out of it.
· Lust is ONLY physical.
· Love is physical, emotional and spiritual.
Love, actual love for others, is what Paul spent an entire chapter discussing—in detail.
Paul (the writer of Corinthians) was not a married man—and he seemed to like it that way (1 Corinthians 7:8—So I say to those who aren't married and to widows—its better to stay unmarried, just as I am.) However, he understood love. True love. Christian Love.
THAT is the kind of love we will be studying about.
Now, I'd like to take this opportunity to emphasis something. We aren't perfect. We will never be able to achieve 'Perfect True Love'. With God's help, we can try. But we are human. We will fail. And God knows that. He understands that.
So, you might be asking yourself 'Why are we studying this if we won't be able to totally achieve it?"
That's a good and valid question. We are supposed to try to live and love like Christ did. We know we won't be able to do it completely because we aren't Him. However, we are to strive to more like Jesus ( 1 John 4:17 And as we live in God, our love grows more perfect. So we will not be afraid on the day of judgment, but we can face him with confidence because we live like Jesus here in this world.).
Paul wanted us to strive to truly love everyone. He knew we'd have problems with it that's why he gave us instructions on how to do it.
It won't be easy… and we won't be perfect… but hopefully through these next weeks together, we will gain the tools so we can love more patiently and with more kindness, etc.
So… what are our goals for this Bible Study/Series?
· To learn tools to use in our lives to show love
· To find out who we are supposed to love
· To gain knowledge of "What IS love?"
· To gain knowledge of the Bible through verse finds and daily "homework"
So! Are you still with me!? I hope so! I'm so excited and ready to get these discussions underway! I want this to be an interactive study, so please join in. All you need is: a pencil or pen, notebook, and Bible. You can use any version of the Bible. My personal Bible is a New Living Translation version.
For the next 12 weeks, I am committed to bringing you the Series the Lord put on my heart to present.. I'm praying for each participant—that this touches you in some way. Please, make the commitment with me to participate, learn, and study with me to see what God has in store for us.
Ready?
I know I am!!!!
"So, Kelly, now that I'm all reved up, what happens next? Why do I have a notebook (that you have talked about for 2 months... )?"
I'm so glad you asked ;)
Each week I'll post the lesson with 6 verses at the end. The verses are for the next week's post so you will be ready and up to date. I recommend using the SOAP method each day with the verses.
SOAP stands for Scripture, Observe, Apply, Pray. It is a great way to study each individual verse and see how something that was written thousands of years ago…. Applies to you today.
Example: 1 Tim 1:5~
*S*cripture 1 Timothy 1:5 The purpose of my instruction is that all believers would be filled with love that comes from a pure heart, a clear conscious, and genuine faith.
*O*bservation: Everyone that believes in God need to be taught (instructed) on how to be filled with and use love that comes from a pure heart, clear conscious, and genuine faith.
*A*pply: I need to make sure that I learn how to love genuinely. I need to strive to have a pure heart and a clear conscious, and if I don't, I need to pray about it.
*P*ray: God, please forgive me of my sins. I know that do don't always have the purest heart or the clearest of conscience…. And sometimes genuine faith is overwhelming. However, I want to do that! I want to strive to be filled with love. I want to be instructed and in turn instruct others on how to do it.
In Jesus name I pray, Amen
*THAT* is the SOAP method and that's the tool that I recommend you use for your daily verses in your notebook. If you don't want to do it that way, that's fine, but I do know that the SOAP method does help you understand the Bible Verses better.
Another great idea (or something I like to do) is to write the verses in my own words. That way it is in language I can understand and I know that I've gotten the meaning out of it. Which every way (or even something different) that you want to do, will be awesome. One of our goals is to learn-- and everyone learns differently. (That's the teacher coming out in me lol)
Sometimes throughout the Monday post, you will see these Q. That symbol means that it is a question that I'd like for you to answer in your notebook.
Ok, I've talked enough. If you have any questions, please leave a comment below or ask on the facebook page. I'm asking that if you are participating in this, that you do leave a comment below and you do follow the facebook page NOT because I want more hits, but because I TRULY WANT you to LEARN from this and comments will make us accountable and the daily discussions on facebook will keep this study on our minds daily. Plus I genuinely want to know what is on your mind as we go through these next 12 weeks together. It's gonna be lonely if you don't...
Here we go...
Friends, here are our first verses to start this Bible Study. Our first 'official' week of finding out "What is Love?"
Verses for Week 2:
Tuesday: 1 Timothy 1:5

Wednesday: Romans 13:9

Thursday: Galatians 5:14

Friday: Leviticus 19:18

Saturday: 1 Corinthians 13:1 (the first verse of our Series)
Sunday: REVIEW all verses for TOMORROW's post.
Thank you so much for showing interest in this study and I pray that it touches you-- that you learn something-- and that you have a great time. :)
Much love, Kelly
Linked with: Women Living Well Wednesday and Encouraging Words Wednesday and Best of 2011 Blog Hop